With all that's going around in the world, and not to mention in such accelerating speed, we decided to dedicate this month's favorite picks on all things educational. From the details of Fashion's Night Out to research in cellular technology, we cover a broad range of subjects. So come take a look, be informed, and share your thoughts!
It's World Tap Water Week. And to kick it off, Do The Green Thing presents "the best, the worst, the silliest, the strangest and the downright amazing things about the wonderful world of tap." Check out their
website
for more.
If you were born today, which country would provide you the very best opportunity to live a healthy, safe, reasonably prosperous, and upwardly mobile life? Considering the aspects of education, health, quality of life, economic competitiveness, and political environment, Newsweek releases a
special survey
of the top 100 best countries to live in right now.
The Story of Cosmetics
examines the pervasive use of toxic chemicals in our everyday personal care products, from lipstick to baby shampoo. Produced by
Free Range Studios
and hosted by Annie Leonard, the seven-minute film reveals the implications for consumer and worker health and the environment, and outlines ways we can move the industry away from hazardous chemicals and towards safer alternatives. The film concludes with a call for viewers to support legislation aimed at ensuring the safety of cosmetics and personal care products. (Find out more
here
.)
Fashion's Night Out is less than a month away and their newly updated website has been revamped with details of every event so
you can start planning
your evening now!
"
Full Signal
talks to scientists around the world who are researching the health effects related to cellular technology; to veteran journalists who have called attention to the issue for decades; to activists who are fighting to regulate the placement of antennas; and to lawyers and law makers who represent the people wanting those antennas regulated."(Read more
here
)
Above:
Mindmeister
offers visual representations of concepts and how they relate. An effective way to organize the results of a brainstorming session, Mindmeister gives your team a tool for sketching and sharing their ideas and plans. (via:
Information Week
)
With now hundreds of apps available for our disposal, it's not always easy trying to figure out what apps we actually need and can live without.
Information Week
breaks it down for us and picks 15 of the best Google apps for businesses. From project planning to invoicing, take a look and maybe one of these can help your everyday tasks run a little bit smoother.
And for all you iPhone users, take a look at
Shopkick
-- the first mobile app that gives you rewards and offers simply for walking into stores. It currently works with Best Buy, Macy's, American Eagle, Sports Authority and major malls in New York, Los Angeles, San Francisco, Chicago, and some stores in Miami, Dallas, and Minneapolis. The download was finally released this Tuesday so go
check it out
!
For all you New Yorkers out there, you may have noticed the bright blue letter grades A, B, or C popping up in a few restaurant windows. The grading system is the latest health initiative by Mr. Bloomberg and based on an evaluation of cleanliness and food safety practices. The Health Department conducts unannounced inspections of restaurants at least once a year. For more about how they score a grade and to see the results for each of the 24,000 restaurants, visit the
NYC Department of Health and Mental Hygiene homepage
.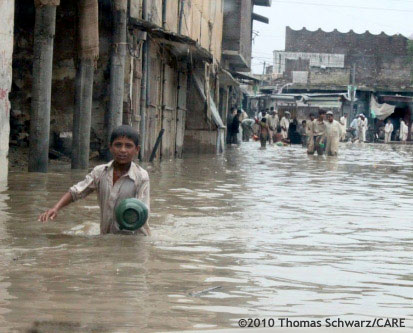 Pakistan is experiencing the worst flooding in recorded history with more than 1,400 people feared dead and 5 million homeless. Help is urgently needed. We would like to end today's picks with a short compilation of organizations that provide direct assistance to those in Pakistan.
If you are interested in learning more about how you can help, the
Huffington Post has an extensive list
of ways to support Pakistani families affected by the floods.